As a leader in etching, deposition and growth systems, Oxford Instruments will soon install more equipment for the Institute of Industrial Technology in the state-of-the-art cleanroom. Oxford Instruments's program engineers will use these and the selected equipment of the institute as demonstrations and provide support for the equipment performance of Far East customers. This will more effectively expand the research capabilities of Oxford Instruments, allowing Oxford Instruments to have a broader approach to more effectively serve Asian customers. Oxford Instruments has installed several facilities at the Institute of Industrial Technology, including PlasmaProSystem 100 multi-cluster system combined with PECVD chamber, RIE reactive ion etching and ALD atomic layer deposition, PlasmaProSystem 100ICP380 plasma etching tool and PlasmaProSystem 80Plus PECVD plasma enhanced deposition equipment, all of which Has been used to advance research. PlasmaProNGP1000PECVD, a PlasmaProaNGPa1000 Etch, and PlasmaProSystem 133ICP380 and accessories, these three devices have been installed in a dedicated Oxford Instruments Optoelectronics laboratory to prepare for the next phase. Dr. Shing-Yuan Tsai, Vice President of the Institute of Industrial Technology, commented: "In the field of materials chemistry and nanotechnology, the Institute of Industrial Technology collaborates with leading companies in Taiwan and around the world to develop and promote the establishment of high value-added industries and the application of nanotechnology. Traditional industries. Our cooperation with Oxford Instruments clearly shows that our research level and equipment are world-class, and the cooperation between the two agencies is mutually beneficial."

Jeffrey Seah, Sales Director for Asia, Oxford Instruments' Plasma Technology Division, acknowledged the collaboration. He said: "Oxford Instruments is a world leader in etching, deposition and growth equipment, and has established a cooperative relationship with the Institute of Industrial Technology, successfully for industrial technology. The Institute's clean rooms have installed advanced equipment, and one of the main objectives of Oxford Instruments is to pursue responsible development and deeper understanding of the world through science and technology, and this cooperation project with such a well-known research institute is to achieve this goal. ."
Spring Balancer
Spring balancers work by maintaining a stable tension when the cable is pulled out or retracted
and this is achieved thanks to the tapered drum. Spring balancers are used to suspend tools
allowing workers to enjoy virtually effortless operation leading to less fatigue whilst maintaining
clutter free work spaces and production lines.
Load capacities from 0.3kg to 200kg are available.
Spring Balancer is a kind of accessorial tool special for suspending electrical machine, which can balance with weight of tools, and achieve modern and civilized production. It has been widely used for welding product lines of vehicle body, rivet lines, and assembly line of engine, motorcycles and home appliances where the tools must be hung. It'll be the ideal choice to reduce the labour intensity and increase the productivity.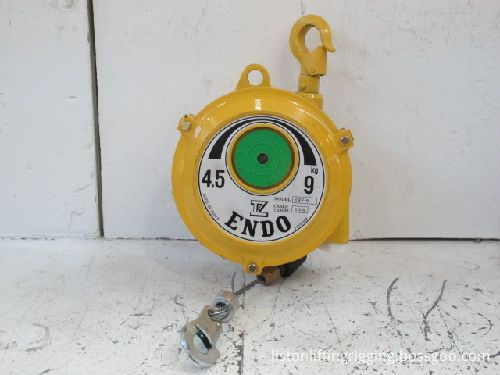 capacity range:1,3,5,9,15,22,30,40,50,60,70,80,100,120,140,160,180,200kgs
| | | | | |
| --- | --- | --- | --- | --- |
| Model | Min.Capacity | Max.Capacity | Working length | N.W. |
| 1-3kg | 1kg | 3kg | 1.3m | 1.7kg |
| 3-5kg | 3kg | 5kg | 1.3m | 1.8kg |
| 4.5-9kg | 4.5kg | 9kg | 1.3m | 3.6kg |
| 9-15kg | 9kg | 15kg | 1.3m | 4.0kg |
| 15-22kg | 15kg | 22kg | 1.5m | 7.4kg |
| 22-30kg | 22kg | 30kg | 1.5m | 7.8kg |
| 30-40kg | 30kg | 40kg | 1.5m | 10kg |
| 40-50kg | 40kg | 50kg | 1.5m | 10.5kg |
| 50-60kg | 50kg | 60kg | 1.5m | 11.5kg |
| 60-70kg | 60kg | 70kg | 1.5m | 12kg |
| 70-80kg | 70kg | 80kg | 1.5m | 12.5kg |
| 80-100kg | 80kg | 100kg | 1.5m | 18kg |
| 100-120kg | 100kg | 120kg | 1.5m | 19kg |
| 120-140kg | 120kg | 140kg | 1.5m | 20kg |
| 140-160kg | 140kg | 160kg | 1.5m | 22kg |
| 160-180kg | 160kg | 180kg | 1.5m | 24kg |
| 180-200kg | 180kg | 200kg | 1.5m | 36kg |
Hebei Liston Lifting Rigging Manufacturing Co., LTD is located in Qingyuan county, baoding city Hebei province. Which is the center of rigging sling manufacturing industrial park. It is a professional modern enterprise engaged in manufacturing high quality hoisting, lifting sling and other equipment supporting products research, development, production, sales and service. The main products are: High-grade synthetic fiber lifting sling, Ratchet Tie Down straps, chain hoist, lever hoist, Electric Hoist, single trolley, floor crane, Load Chain , lifting clamp, Chain Rigging and supporting products.
Spring Balancer,Spring Balancer For Industry,Spring Weight Balancer,Load Spring Balancer
Hebei Liston Lifting Rigging Manufacturing Co., Ltd. , https://www.liftingriggings.com